1 de enero de 2022 - Feliz año nuevo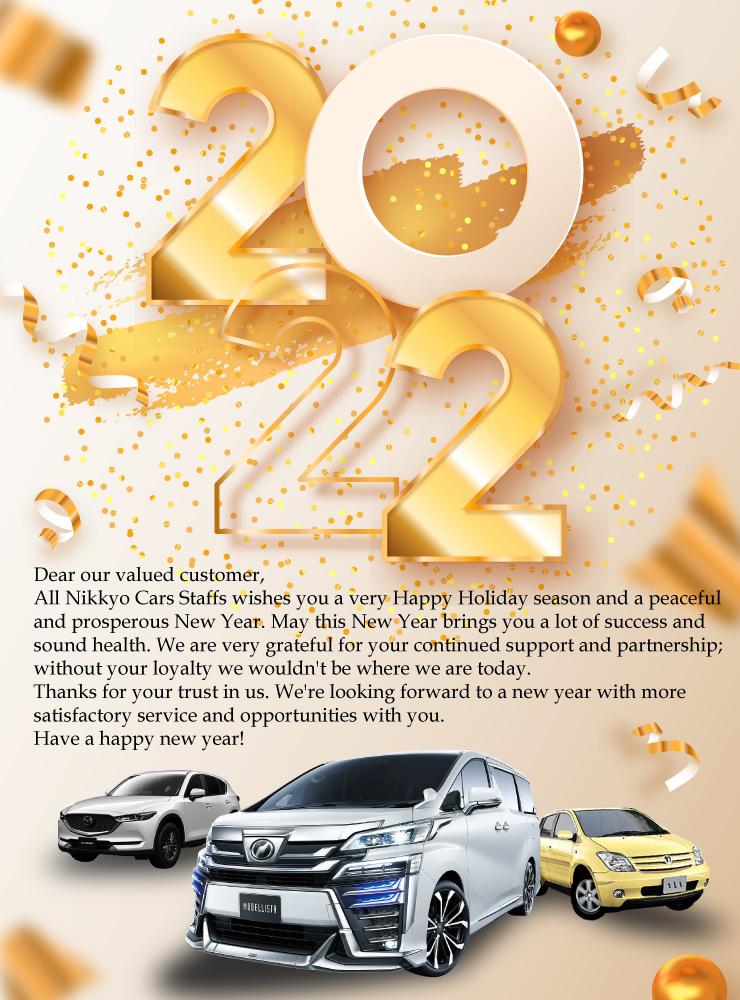 (Click para agrandar imagen)
20 de diciembre de 2019 - en el 2019 huvo una fiesta de fin de año
1 de enero de 2019 - Feliz año nuevo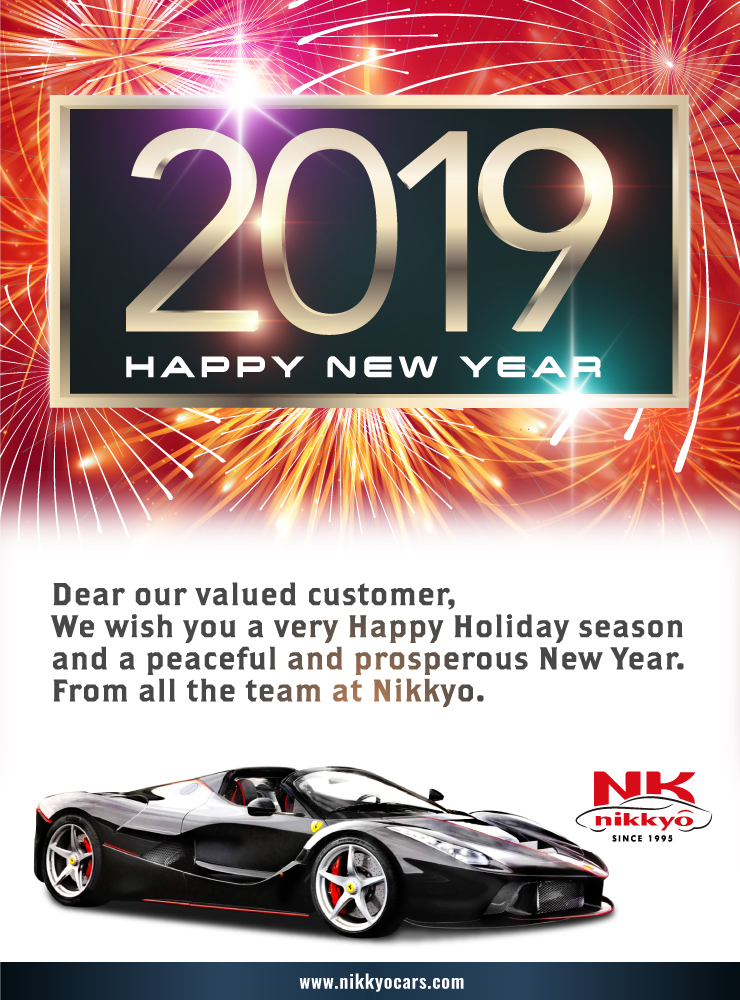 (Click para agrandar imagen)
21 de diciembre de 2018 - en el 2018 huvo una fiesta de fin de año
27 de marzo de 2018 - Apartir del 1 de Abril el nombre del banco 「The Bank of Tokyo-Mitsubishi UFJ, Ltd.」 cambiara a 「MUFG Bank, Ltd.」
Apartir del 1 de Abril el nombre del banco 「The Bank of Tokyo-Mitsubishi UFJ, Ltd.」 cambiara a 「MUFG Bank, Ltd.」
Revisar al momento de aser los giros. Si pone con el nombre anterior el giro no llegara a Japon.
| | | |
| --- | --- | --- |
| Nuevo nombre | MUFG Bank, Ltd. | Apartir del 1 de Abril |
| Nombre anterior | The Bank of Tokyo-Mitsubishi UFJ, Ltd. | Hasta el 31 de Marzo |
1 de enero de 2018 - Feliz año nuevo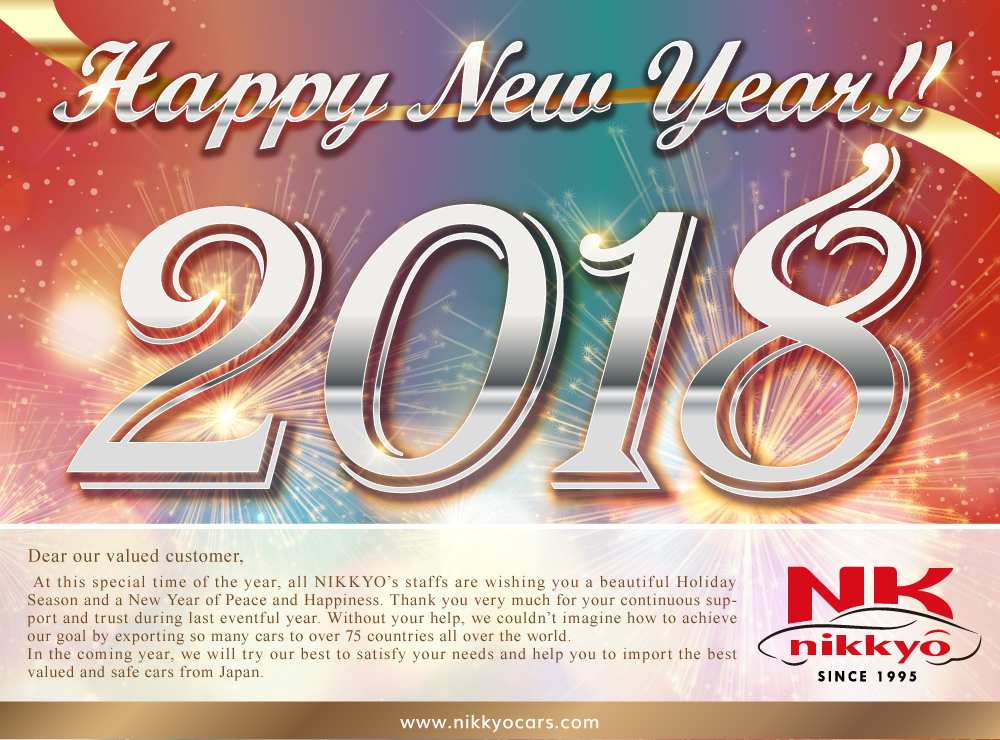 (Click para agrandar imagen)
22 de diciembre de 2017 - en el 2017 huvo una fiesta de fin de año
1 de enero de 2017 - Feliz año nuevo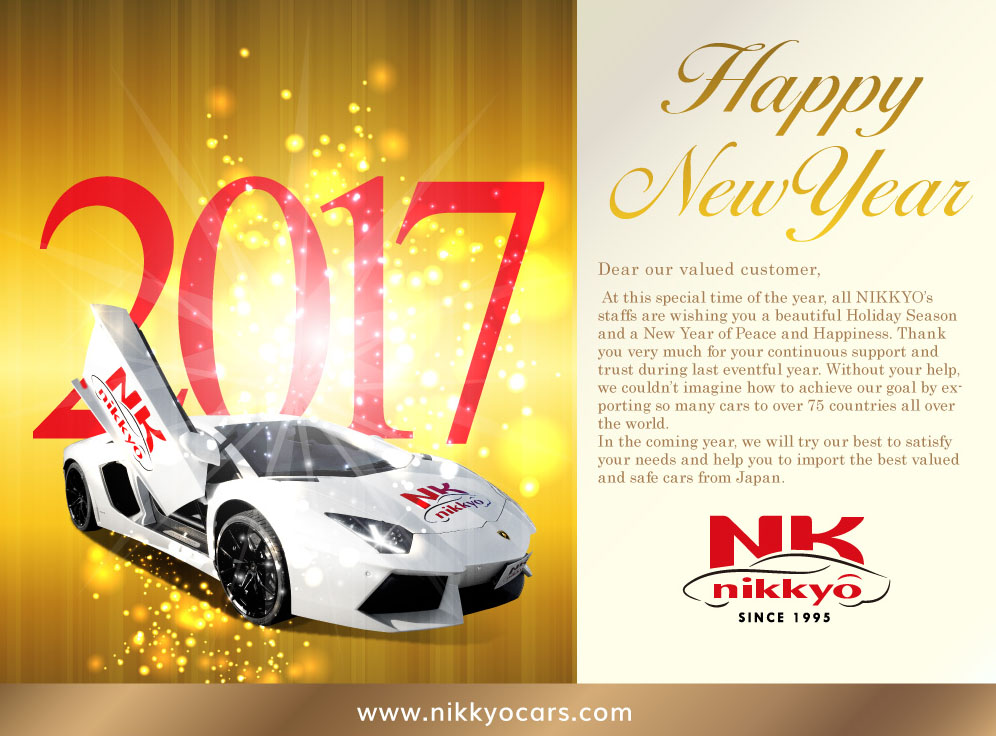 (Click para agrandar imagen)
22 de diciembre de 2016 - en el 2016 huvo una fiesta de fin de año
6 de enero de - en el 2016 huvo una fiesta de año nuevo
22 de diciembre de 2015 - en el 2015 huvo una fiesta de fin de año
Aug. 23,2013 - Auction Terms of Nikkyo updated.
1. Nikkyo's Auction Service is not a open public service to all the Nikkyo members.
2. Only those who passed Nikkyo`s requirement are allowed to use auction service.
3. Our company has the right to stop any member found to have malicious intentions.
4. Nikkyo may return all of the customer`s deposit if said customer fails to successfully purchase a car at a given period.
Jul. 25,2013 - Important Notice before sending money to Nikkyo
1. All the emails of Nikkyo Co., Ltd are ended with a permanent static domain name of
@nikkyocars.com, we didn't and will never contact our customers by @gmail.com. Because
@gmail.com is for private use, and can be easily used by frauds.

2. All bank accounts of Nikkyo Co., Ltd are within Japan. We have no subsidiary being used
outside Japan, especially in HONGKONG and CHINA. Only send your payment through
authorized NIKKYO banks. Do not send to any bank that is not affiliated with our company.
Be careful of fraudulent and spam emails.

3. Please make your payments only through our bank accounts on our homepage.

Mar. 14,2011 - MARCH 11TH JAPAN EARTHQUAKE TSUNAMI
Nikkyo sincerely thanks all our friends and customers for the kind words they have expressed to us in regards to the earthquake & tsunami in Japan. Everyone at Nikkyo is moved by this outpouring of support. We are happy to announce that all our staff are safe and accounted for. For now we have avoided most of the earthquake. However aftershocks and other perils continue in Tokyo, we will do our best to stay vigilant.
Regarding our business operations-- Nikkyo's office hours will not be effected. We will be open for business as usual. However, due to the impact this disaster will have on Japan's infrastructure, there may be unexpected delays in document dispatching and shipping. Nikkyo will do its best to prevent delays, however please give us your kind understanding.
Unfortunately hundreds of thousands of people in northern Japan were not as lucky. Our prayers go out to them, their families and the ongoing relief/rescue efforts. This disaster has been named the worst earthquake tsunami in Japanese history. Please be advised that our friends and customers can help with relief efforts too. If you are interested in donating, the following is a list of confirmed aid organizations that are currently accepting donations for the Japanese earthquake/tsunami.
American Red Cross
(www.redcross.org)
Global Giving
(www.globalgiving.org)
Save the Children
(www.savethechildren.org)
Thank you very much for your support in this difficult time.
Nikkyo Co., Ltd.