How to buy
To import a car from Japan is an easy process and our well-trained staff will make it easier for you to get your favorite vehicle.
Below are the steps that can help you to understand the import procedure:
REGISTRATION
The first step to buy a vehicle from Nikkyo is to get registered on our website, registration process is very easy and swift.
(New member registration)
CAR INQUIRY
Once you are registered, you can search a wide variety of vehicles available on our website, select your favorite unit and inquire us about that, you can fill the inquiry form available on our website and our staff will immediately contact you.
CAR SELECTION AND CONFIRMATION
Once you have selected your favorite unit and confirm about it, you can order for that unit through our website.
INVOICE AND PAYMENT
You will receive the proforma invoice to make payment, payment is only accepted by Telegraphic transfer from KENYA to our designated banks in Japan, please be noted that we only accept payments made to Japan.
(Important warning about payment)
SHIPMENT BOOKING AND INSPECTION
Once we receive your payment, we will arrange the vehicle for inspection and earliest shipment and will send you the confirmation about the vessel ETA and ETD.
CUSTOM AND CLEARANCE
Once the car arrives at port of discharge, that is MOMBASA port for KENYA, after paying all the duties and taxes, you can clear your car and enjoy the ride!
Import Information for Kenya
RIGHT HAND DRIVE: Only RIGHT-HAND DRIVE vehicles can be imported to Kenya.
YEAR RESTRICTION: For Kenya, cars can be imported which are not older than 7 years after first registration year, and there should not be a gap of more than 1 year, between registration year and manufacturing year.
SHIPPING FOR KENYA: For Kenya, the most common shipment method is RO-RO shipment.
INSPECTION: QISJ and EAA are the inspections used for Kenya.
CUSTOM DOCUMENTS: There are some documents, needs to be provided for Kenyan custom clearance, such as Bill of lading, Inspection certificate, Proforma invoice, KRA PIN, IDF form. For more details, please contact port authorities in Kenya.
CFS: There are several Container freight stations in Kenya to be used for import purposes.
City Delivery Service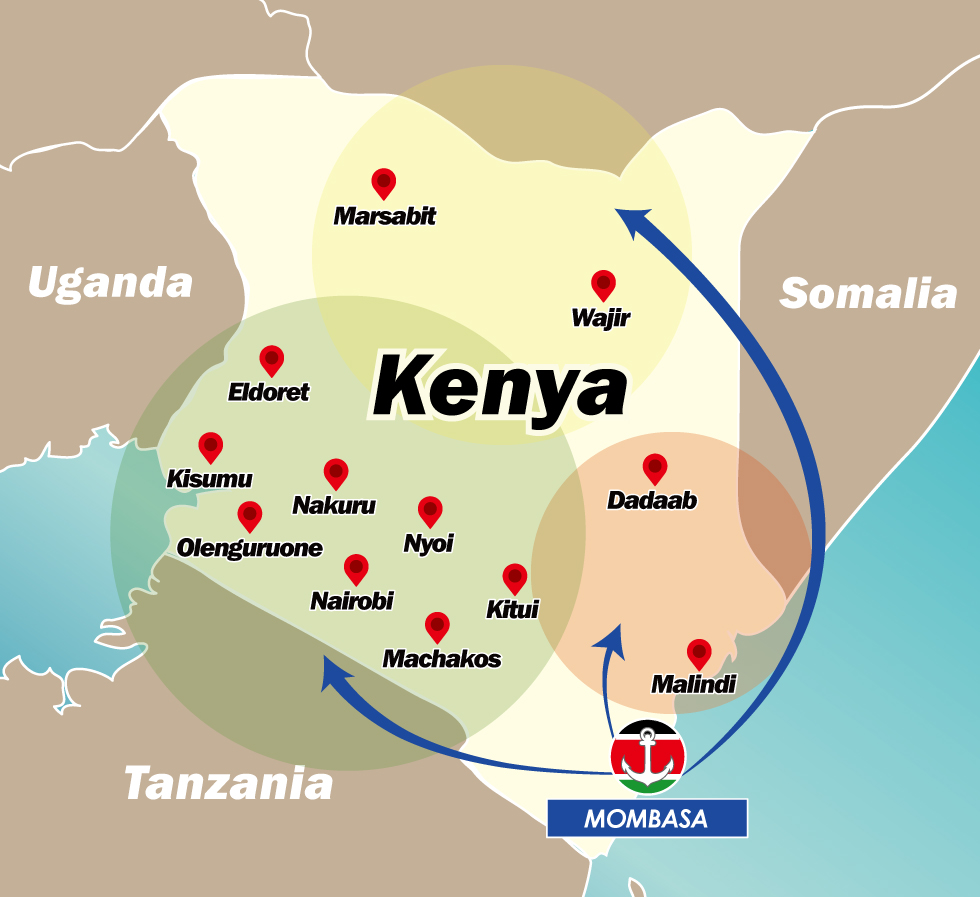 Nikkyo Kenya Agent
IMPORTANT NOTICE
All exact payment for all deals must be transferred & paid directly to Nikkyo in Japan.
Nikkyo will not be responsible if the fund was not directly transferred to Nikkyo in Japan and in the case it is missing or any trouble/ incident occurred.
Bank Information
Frequently Asked Questions
Q
Is there any cost to get registered with Nikkyo?
No, there is no cost to get registered with Nikkyo, registration is absolutely free.
Q
What are the payments method accepted by Nikkyo?
Nikkyo only accepts payment by telegraphic transfer to be made to our designated bank account in Japan.
Q
Can payment be made to local offices in Kenya?
No, payment cannot be made with in Kenya, it should be only made by Telegraphic transfer to Japan.
Q
How long does it take to reach a car at Mombasa port?
It takes around 4-5 weeks from Japan to reach at Mombasa port.
Q
Do the cars meet the criteria set for import in Kenya?
Yes, all the cars are carefully purchased from auction and then they go through the inspection before shipment, if they don't meet the criteria for Kenyan standards, they cannot be exported.
Customer Reviews
Hi, Nikkyo Cars, My name is M. Kashif the owner of
Jap TLd Kenya from Mombasa, Kenya. I want to thank you
for providing good stock and maintaining good services.

M.Kashif
Aug 25, 2021
Hello Nikkyo Cars, My name is Rose Njane Maina from Creekwave Logistics Company.
I want to thank you for finding me a good stock and maintaining good services. I am looking forward to working with you.
R. N. Maina
Aug 25, 2021
Hi, Nikkyo Cars, My name is R.Oketch from Mombasa, Kenya. I want to thank you so much for keeping the promise of delivering the Mitsubishi RVR on time. I'm looking forward to doing more business with you and will surely refer my friends to you as well.
R.Oketch
Aug 25, 2021
Hello, team Nikkyocars!

I wish to confirm that I received the car within the expected lead time, done a road test, and wow! So far I am impressed with every bit of the experience. Thank you all for the facilitation, particularly Mr. G. NABI for coordinating and making my dream a reality. Mr. G. Nabi kept me informed with every bit of progress updates till the car was shipped and received at my country's entry port. It was such exemplary customer service. I would get another car from Nikkyo Cars and confidently make referrals. I am a happy client!
F.K.Mutaiti
Aug 23, 2021
Thank you very much NIKKYO for the beautiful car in perfect condition
and thanks to GHULAM NABI you did a greater job and he was so supportive and informative.

M.TANOLI
Jul 9, 2021
Hello, Nikkyo the Toyota Fielder and Nissan March customers were impressed with your services, and the vehicles which they received were in good condition.
they are in Nakuru Country in Kenya.
Thanks, Nikkyo.
Keep up the service and looking forward to work with you.
Thanks.
B.K.TONY
Jul 8, 2021
Hi, Nikkyocars, My names are R.S.Mwita from Kenya- Mombasa. I want to thank you so much for keeping the promise of delivering the Nissan note unit in my county, to my sales representative Mr. GHULAM NABI thank you so much for your assistance. I'm looking forward to doing more business with you.
K.Braza
Jul 8, 2021
Thanks, Nikkyo I received my car in super condition it looked so great. special thanks to Ghulam nabi for his continued support and I recommend everyone to choose him.he was so supportive and informative
N.Denis
Jun 8, 2021
Dear NIKKYO, I received the Suzuki solio safely .as soon as I sell it I will order for another one.I will collect the passo soon from CFS Mombasa. Thanks alot
Mr S. N. Kihiu
May 27, 2017
Hello, the car finally arrived. I am happy with the car , thank you ! I will recommend to my friends, if they want to buy car aboard.

Y. J. Cheng
Dec 10, 2016
Am looking forward to doing business with you more as did my father.
received in good condition.
B. Butali
Dec 8, 2016