Important Warning: To All Nikkyo Valued Customers, please be careful not to be a victim of fraud.
Nikkyo is announcing to all our valued customers to be careful not to fall into the trap of scams and frauds. Remember! We have to fight this sort of fraud from both ends to give those (Hackers / Thieves / Frauds) NO CHANCE to deceive you!
Nikkyo is always keen on protecting its customers as well as protecting its Internal Online System, websites and pages on the net.
For this reason, please beware of unknown pages and brokers impersonating Nikkyo representatives, but in reality, they do not represent Nikkyo and we do not know their identity.
We have created a strict security program for all of our online systems. We all know that there are so many bad people in our world, who are making fraud and theft as a Job, that might make you their victim.
No wonder! They bother us and cause us as many losses as they do to you!
That's why, we highly recommend you follow the tips below to help you avoid the tragedy.
Tip 1: Before making any payment, call the head office for verification!
Every time you are told that the car belongs to Nikkyo Cars, you only need to contact the Head office in Tokyo, Japan directly at the following number: +81-3-5960-0270
or via email at: info@nikkyocars.com to ensure that the transaction has been done under the company's approval.
Nikkyo Cars has one kind of Pro forma (Commercial) invoice, and any other sort of invoices do not belong to Nikkyo. (To see Nikkyo's genuine Pro-forma (Commercial) invoice, check the image below)
FALSE INVOICE: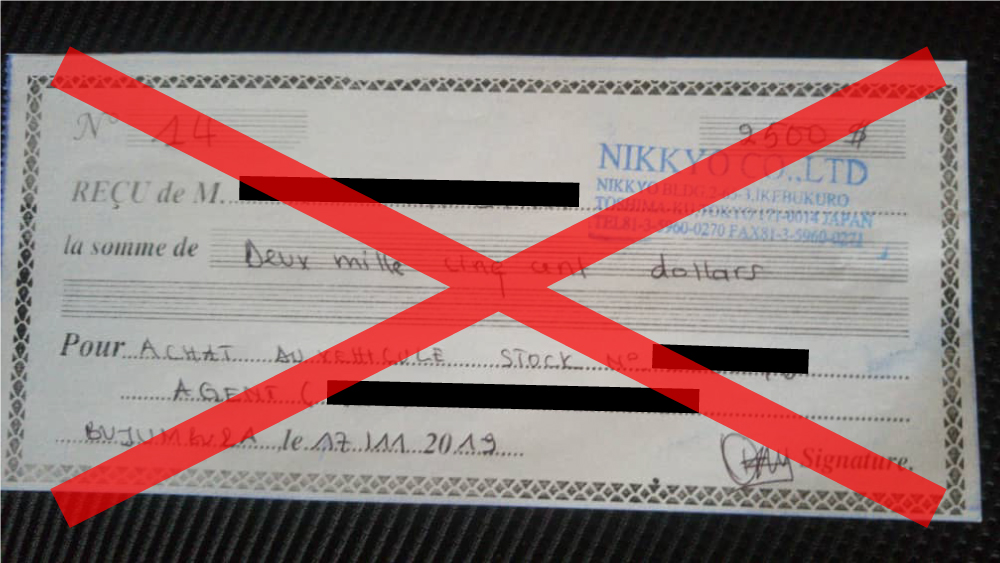 TRUE INVOICE: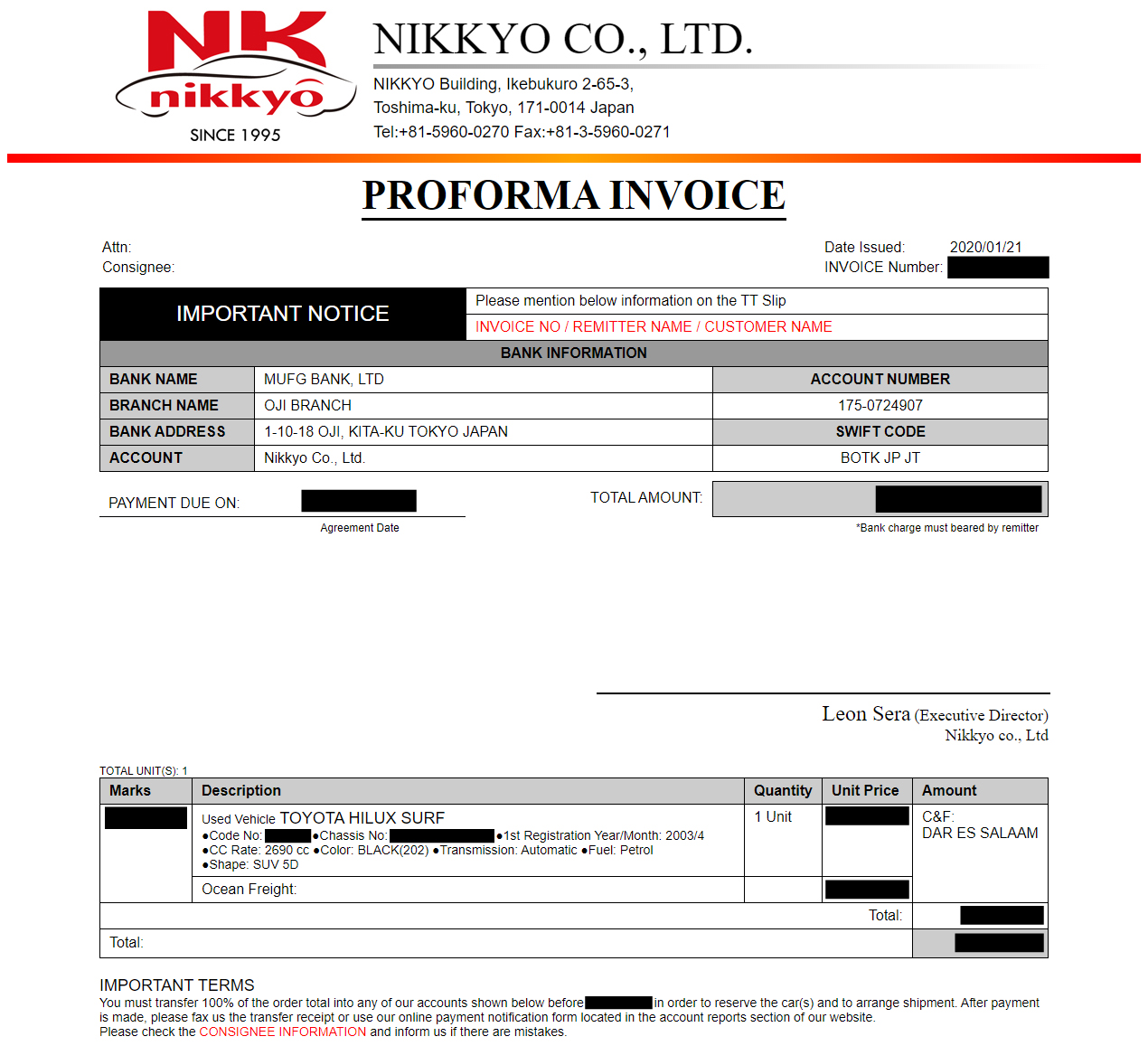 Tip 2: Make sure to keep your account details secure.
If you are a Nikkyo registered member, be careful not to share your login details with or in front of anonymous people in order to protect your Nikkyo account. Be informed that the best way to protect any account is to change your password after a period of time.
Tip 3: Confirm our correct bank account information before you transfer your money!
Do not forget to check the account number of the INVOICE before you make any payment. Nikkyo has only the following bank accounts:
Bank Information
MUFG BANK, LTD
Account Name
Nikkyo Co., Ltd.
Account No
175-0724907
SWIFT Code
BOTK JP JT
Branch Name
OJI BRANCH
Address
1-10-18 OJI, KITA-KU TOKYO JAPAN
MIZUHO BANK, LTD
Account Name
Nikkyo Co., Ltd.
Account No
203-1773930
SWIFT Code
MHCB JP JT
Branch Name
AKABANE BRANCH
Address
1-8-4 AKABANE, KITA-KU TOKYO JAPAN
SUMITOMO MITSUI BANKING CORPORATION

(For Japanese Yen Transfer Only)

Account Name
Nikkyo Co., Ltd.
Account No
673-7214777
SWIFT Code
SMBC JP JT
Branch Name
OJI BRANCH
Address
1-16-2 OJI, KITA-KU, TOKYO, JAPAN
Overseas Local Bank
ECOBANK TANZANIA LIMITED
Account Name
NIKKYO CARS LTD
Account No
7045004899
SWIFT Code
ECOCTZTZ
Branch Name
PSPF TOWER BRANCH
Branch Code
R72
ECOBANK ZAMBIA
Account Name
NIKKYO CARS LTD
Account No
5615000009082
SWIFT Code
ECOCZMLU
Branch Name
THABO MBEKI BRANCH
Branch Code
360002
Or visit the following link:
For PC:
https://www.nikkyocars.com/n2014/contact/#bankinfo
For Mobile:
https://www.nikkyocars.com/m/contact/#bank
Tip 4: Be aware about Fake Nikkyo home pages, Facebook pages and profiles.
We use Facebook and SNS platforms for Advertisement reasons and as a platform where we can communicate with our customers and followers.
If you want to confirm the REAL PRICE of a car, please visit our website https://www.nikkyocars.com/ and contact the agents in charge of sales in your country or region.
ALL NIKKYO CARS AVAILABLE IN STOCK ARE NEGOTIABLE! YOU CAN SAFELY SHOP NOW!